NEW from WALZ: the largest Imaging System yet.
WALZ has just introduced the new HEXAGON-IMAGING-PAM, the largest Walz Imaging System available, which can measure a wide variety of samples, including detached leaves, algae samples, potted plants and plant trays. The HEXAGON-IMAGING-PAM:
Measures areas of 20 x 24 cm with a resolution of up to 1000 x 1200 px (2x2 binning), according to the PAM principle with highest accuracy Up to 1.2 MP image resolution

Optionally available Plant Pot Holder IMAG-HEX/PH enables the uniform positioning of small plant pots (round, diameter 6 cm) in the measuring field.

Size of the instrument is 515 x 485 x 470 mm (W × H × D, without computer, power supply and screen).

Can determine Fo' value of the samples using an additional, dual-circuit far-red LED panel with which FR light and FR light with a higher red component can be very finely dosed.

Control Computer (recommended and available as accessory): Intel NUC mini-PC with Win 10 OS


For more information: https://www.walz.com/products/chl_p700/hexagon-imaging-pam/introduction.html
The new WATER-PAM-II Chlorophyll Fluorometer is a small portable instrument for phytoplankton research and water analysis. The WATER-PAM-II is a major upgrade to our popular WATER-PAM, including multicolor LEDs for determining algal composition and extended operation on standard AA batteries. Ideal for HAB field research. Key features of the new WATER-PAM-II include:
Broad sensitivity range, from lab cultures to natural surface and seawater samples

Multicolor LEDs allow measurement of green, brown and blue-green algae composition

Both red and blue measuring lights in one instrument for photosynthesis determination

Comprehensive SAT-Pulse analysis, program routines and graphical display

Very long field operating time utilizing standard AA-batteries

Optional Flow-Through Cuvette, Barcode Scanner, and Controllable Stirrer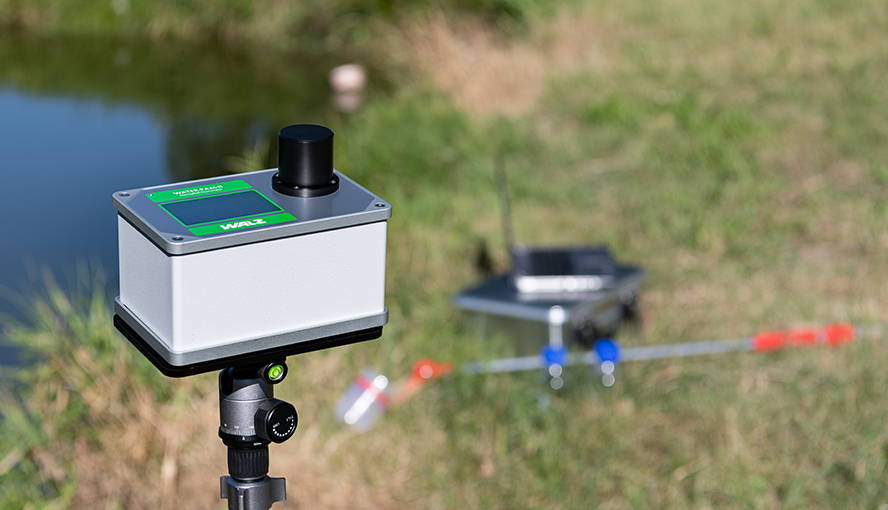 IMAGING-PAM Mobile Version
An advanced method to create three-dimensional plant images has been added to the MAXI version. This new configuration opens the way to project data of fluorescence analysis on the three-dimensional plant image so that photosynthesis can be analyzed in the context of whole plant architecture. Newly introduced is a field portable IMAGING PAM that is designed for turf and small plant measurements. Fully battery operated and portable, it is useful for imaging field crops. For more details go here.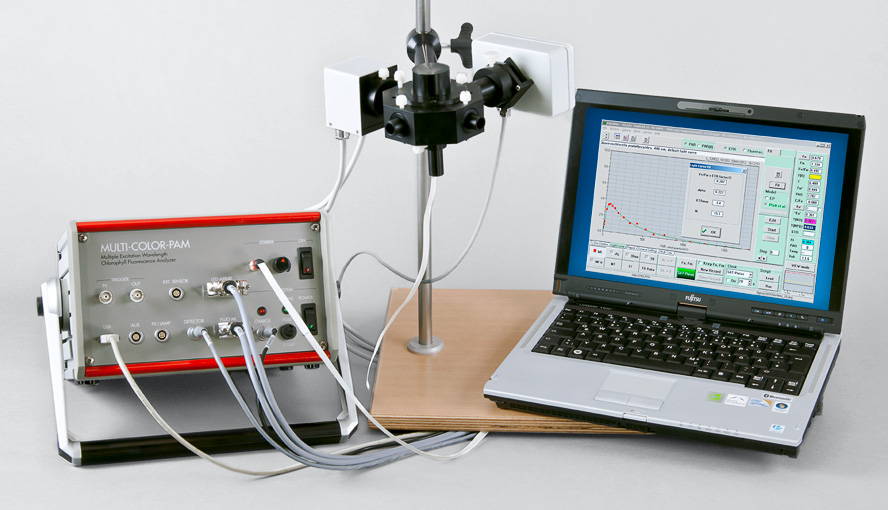 MULTI-COLOR-PAM used to detect variable fluorescence of Photosystem I
Detecting variable fluorescence of PSI has been challenging because of the spectral overlap of PSII and PSI fluorescence. The versatile configuration of the MULTI-COLOR-PAM has allowed detection of PSI fluorescence using filter sets for long and short wavelength components of chlorophyll fluorescence. Drs. Schreiber and Klughammer report persuasive evidence of variable PSI fluorescence in green algae, cyanobacteria and green plant. The open source article can be found here.
Schreiber, U., Klughammer, C. Evidence for variable chlorophyll fluorescence of photosystem I in vivo. Photosynth Res (2021). https://doi.org/10.1007/s11120-020-00814-y
PAM Fluorometers & Photosynthesis Instruments

Bay Instruments is the exclusive USA and Canada representative for Walz instruments, systems and supplies in the United States and Canada. Bay Instruments can assist with selection, purchase, and technical support for the Walz entire line of highly sophisticated photosynthesis measuring systems.
Walz has systems and instruments for Chl variable fluorescence, light measurement and gas exchange research. Individual systems and instruments are available for terrestrial, suspension, aquatic and laboratory applications.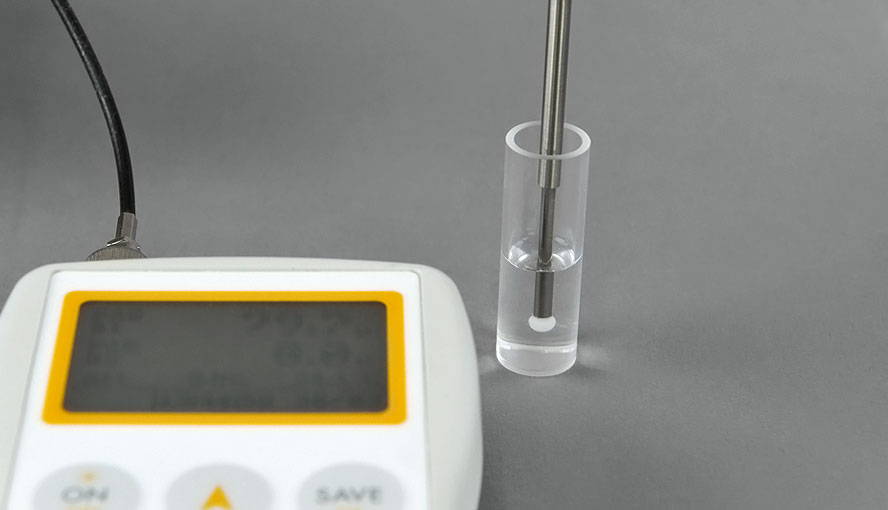 US-SQS/L Submersible Spherical Quantum Sensor
For those missing experimental work due to COVID-19, and for all people being interested in how photosynthesis responds to sunlight and temperature, the WALZ website now publishes real time data from a MICRO-PAM monitoring system situated outdoors close to the home of WALZ company in Effeltrich, Germany.
The site displays the latest data set numerically and the record of the last 24 hours graphically.  In addition data of the past month can be downloaded. This link leads you to the MICRO-PAM web page.